Vocoders stand out as pivotal tools for crafting iconic synthesized vocal tones, marrying the human voice with electronic precision. They've become indispensable in shaping sounds across various music genres, offering an innovative approach to sonic creation. No matter what kind of music you make or what level of production skills you have, the right vocoder plugin can be a game-changer. In this post, we will explore the top 5 best vocoder plugins of 2023, highlighting their key features and the distinctive audio textures they bring to the table. Join us as we navigate through these cutting-edge vocoders that are making waves in the music industry!
Included in this guide:
Image
Product
Features
Price

Best Overall

Antares Auto-Tune Vocodist Vocoder Plugin

Loaded with a built-in autotune

8-voice dual-oscillator onboard synthesizer

Toning and vocal warping EFX+

Check Price

Runner-up

Zynaptiq Orange Vocoder IV Plugin

24 vocoding and cross-synthesis modes

64-voice synths with hundreds of presets

Dual oscillators for digital and analog waveforms

Check Price

Top Pick

Excellent six-voice polyphonic carrier synth

Quick-to-learn Attack Hold Decay Envelope

Classic analog vocoder sounds

Check Price

Top Pick

TAE-powered genuine analog emulator

Extensive presets and audio samples

Two oscillators with envelope and expression controls

Check Price

Lowest Price

Waves Morphoder Vocoder Plugin

Loaded with an 8-voice stereo synthesizer

Powerful formant control

Modulator with Linear Phase EQ

Check Price
---
Related Article: How To Use Auto-Tune: From Subtle To Robotic
---
The Top 5 Best Vocoder Plugins
1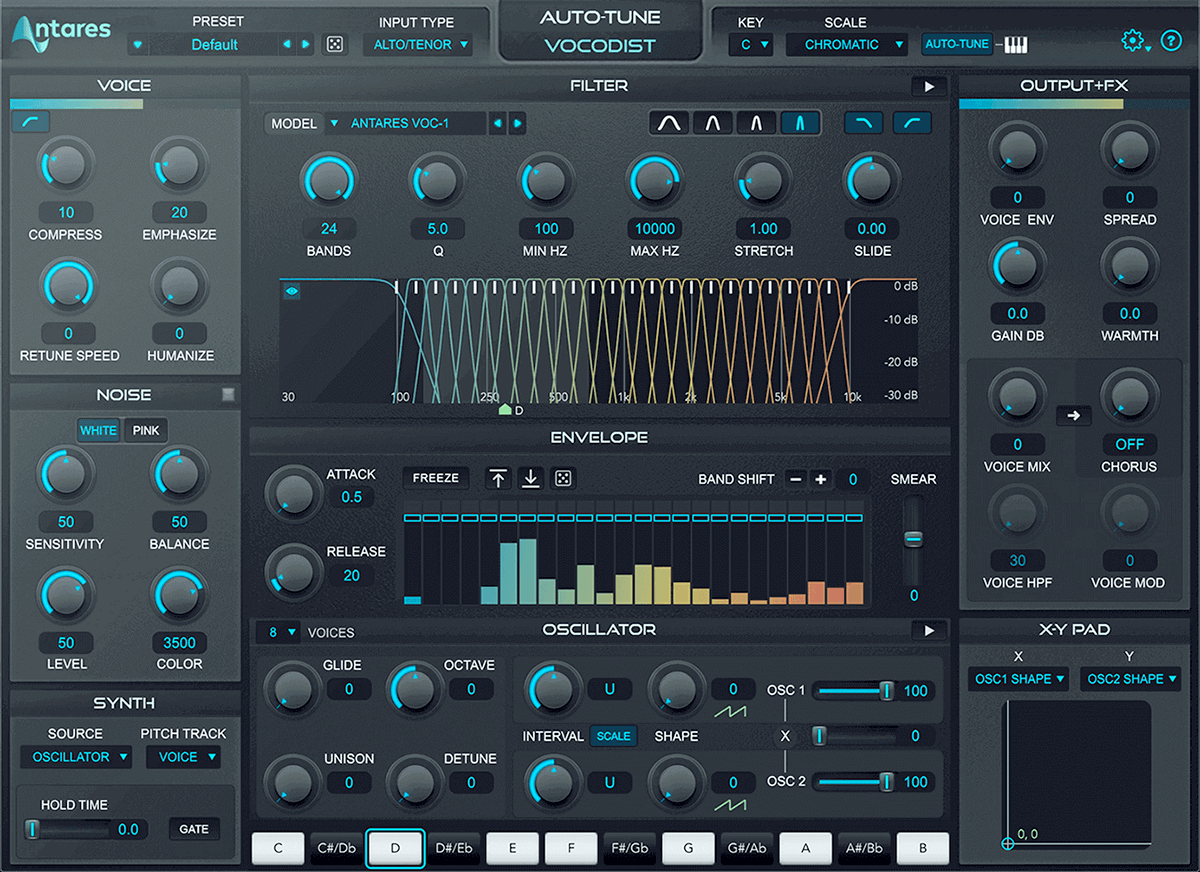 Powered by built-in autotune, the Antares Auto-Tune Vocodist enables users to create real-time pitch correction in their audio tracks. Under the hood is an 8-voice, dual-oscillator synthesizer for easy vocoding sessions straight out of the box. You can customize your classic vocoder's sound with ready-to-use presets from famous producers and artists. Or, explore stellar vocal effects with the plugin's analog tube saturation, ring modulation, and lush choruses. With the Antares Auto-Tune Vocoder Plugin, transforming your vocals has never been easier!
Pros
User-friendly interface

Voice or MIDI control for quick pitch selection

Offers extreme vocal manipulation as well as fine-tuning
Cons
Not the most budget-friendly option

Subscription-only packages

Requires considerable time investment to master
The Zynaptiq Orange Vocoder IV is one of the most all-rounder plugins on the market. Boasting over 24 vocoding sounds and 64-voice synths and presets, achieving your desired signature sound is a breeze with this plugin. You can optimize your music with its five-mode Pitch Quantizer, providing a wide range of sound options with a simple toggle switch. Zynaptiq's Orange Vocoder also offers features to streamline your production, including vocal tuning creation, layered harmonization effects, synth sounds, harmonic support, and a convenient Freezer module.
Pros
Stylish and interactive signal flow diagram interface

Intelligent randomizer for making brand-new vocoder settings

Comprehensive modulation choices
Cons
CPU intensive

Costly initial investment

Not the most user-friendly plug-in for beginners
3
The Softube Vocoder Plugin offers a blend of modern and vintage innovations. It has a six-voice polyphonic carrier with MIDI capability and four selectable waveforms, delivering sensational sound customization. Users have complete control with its Spectral Tilt for tone fine-tuning, Emphasis Control for resonance, Resynthesis Control with 4 to 20 bands, Stereo Width for band spread control, and Shape Control for making pads and textures. Softube also included a built-in Freeze section for quick format capturing and storing.
Pros
Vintage and intuitive GUI design

Excellent value for your money

Easy to set up and use
Cons
Limited synth controls and customizations

Requires an iLok account to use

An outdated interface
4
Arturia Vocoder V is an innovative plugin combining a carrier, modulator, synth, and voice analyzer in one package. Tuning becomes a cakewalk with Vocoder V's Voice Pitch Tracking feature. It has a built-in Synth Section with waveshaping capabilities, a dual oscillator with FM, and a Chord Mode for transforming your notes into full chords. You can load the Vocoder V and play it as your instrument with an Integrated Sample-Player Engine featuring over 250 factory presets and 700 samples!
Pros
In-app tutorials for quick customization

Compatible with most modern DAWS

The plugin has a resizable GUI
Cons
Controls can be challenging to navigate

Requires 64-bit operating systems and DAWS

Sidechain won't work with FL Studio and Studio One
5
The Waves Morphoder Vocoder is a top-notch choice among budget-friendly plugins. On board is a built-in 5-band parametric EQ for straightforward and accurate sound-shaping. And it comes with an internal polysynth with ten presets readily available. While traditional, Morphoder remains unparalleled in making crowd sounds, double vocals, creepy whispers, and other sound effects. It's the perfect tool if you're looking for a plugin that does what it needs at a friendly price!
Pros
Cheapest vocoder plugin on our list

Minimalistic and easy-to-use GUI

Mono, mono-to-stereo, and mono components
Cons
Requires higher computer memory (8 GB)

Interface appears outdated

Limited preset options available
---
Related Article: Output Exhale: A Complete Guide To The Ultimate Vocal Engine
---
Frequently Asked Questions (FAQs)
What is a vocoder?
A vocoder, or voice encoder, is a tool that synthesizes vocals and other audio. Typically, vocoders result in a robotic sound; think Daft Punk. But with some tweaking and fine-tuning, you can alter the pitch of the audio, so that the effects of the vocoder are barely noticeable.
Is a vocoder the same as auto-tune?
It's easy to confuse vocoders with auto-tune, especially since both result in a synthetic, robotic voice. That said, the purpose of each plugin is totally different. Vocoders analyze voice signals, while auto-tune only corrects the singer's pitch.
How do I optimize my vocoder's sound?
There are a handful of settings on vocoders. Some plugins also have extra features and combinations you can use to achieve your signature sound. If you're unsure where to begin, start by understanding the basics. Then, you can adjust the pitch using the formant and the oscillators to get the signature synth sound.
What musicians use a vocoder?
Vocoders first gained popularity in the 70s with the rise of the disco genre. You can distinctly hear the effects of vocoders in the music of artists like Boney M and Kraftwerk. Software vocoder plugins are still widely popular today, especially among EDM artists.
What was the first song to use a vocoder?
One of the earliest recorded productions using a vocoder is Wendy Carlos' "A Clockwork Orange" in 1971. Following Carlos' soundtrack, electronic and pop groups made the vocoder a primary part of their acts, marking the beginnings of electronic music.
Product Recap
So, which plugin should you get? The Antares Auto-Tune Vocodist is the best pick for its customization capabilities, sound quality, and user-friendliness. The Zynaptiq Orange Vocoder IV is a viable alternative for its astonishing range, effects, and intuitive tools. Lastly, the classic Waves Morphoder should be an excellent pick for people looking for an affordable plugin.
If you found this guide helpful, please consider subscribing to our blog for more music production tips, product reviews, and buying guides. Also, you can support new content by contributing to our tip jar.
"Some of the links within this article are affiliate links. These links are from various companies such as Amazon. This means if you click on any of these links and purchase the item or service, I will receive an affiliate commission. This is at no cost to you and the money gets invested back into Audio Sorcerer LLC."