Are you a musician or producer in search of high-quality samples and production tools? Then look no further than Loopmasters. In this blog post, we will provide an in-depth review of Loopmasters and their top-notch sample libraries, virtual instruments, and other music production tools.
With a huge library of sample packs and collaborations with renowned producers and sound designers, Loopmasters is a trusted source for royalty-free sounds used by professionals in the music industry.
Join us as we dive into the features, benefits, and drawbacks of Loopmasters, and help you decide if it's the right choice for your music production needs.
Loopmasters Overview
Loopmasters is a UK-based company that specializes in providing high-quality sample libraries, virtual instruments, and other music production tools for musicians and producers. The company was founded in 2003 by Matt Pelling and David Felton, and has since become a trusted source for royalty-free sounds and loops used by professionals in the music industry.
Loopmasters offers an extensive library of sample packs and sound libraries covering a wide range of genres, from electronic dance music and hip-hop to jazz and classical. Their sample packs are created in collaboration with renowned producers and sound designers, ensuring that they are of the highest quality and meet the needs of modern music production.
In addition to sample packs, Loopmasters also offers a range of software plugins and virtual instruments, including synthesizers, drum machines, and effects processors. Their products are used by many famous musicians, producers, and sound designers in the music industry, and they have won numerous awards for their innovative and high-quality products. Overall, Loopmasters is a go-to resource for musicians and producers looking for top-notch sounds and tools to enhance their music production workflow.
Loopmasters Features
With the basics of Loopmasters out of the way, we can move on to the platform's features. In this section, we'll cover the most notable services of the music library. 
Wide Genre Selection
One of the most impressive features of Loopmasters is its wide genre selection. The platform offers all sorts of flavors when it comes to music.
Some of the most popular genres include:
Rock
Jazz
Bass music
Hip-hop
Cinematic
House
As you can tell by this short list, the samples are incredibly diverse. Each genre has a unique collection of sounds and samples that you can use. That means no matter the project, you should be able to find something that works for you. 
Intuitive User-Interface
When picking out a music library, it's crucial that you pay attention to the user interface. There's no point in signing up for a service that you won't be able to use. Thankfully, this isn't usually an issue with Loopmasters. The platform has an incredibly user-friendly interface, which makes it ideal for beginners. 
Right off the bat, you'll notice that the controls are intuitive and easy to use. This makes navigating the library and finding the sample you need a walk in the park. Plus, music producers can alter samples using the platform. They can change the pitch, tempo, and other parameters to create interesting effects.
To top it all off, the interface pairs with all major Digital Audio Workstations (DAWs) using Loopcloud. This makes integrating samples into your work much easier. 
High-Quality And Authentic
One of the reasons Loopmasters has been successful over the years is because of the quality of samples it provides. That's because music producers and other artists create its library. 
This means that all the recordings should sound authentic with impeccable quality. 
The sound designers pay attention to every tiny detail of the sample. Then, they'll spend some time editing and perfecting each music file.

Royalty-Free Samples
Perfecting a professional music track can be a bit of a challenge. You may even need to invest in special equipment to get the job done. A quick way around this issue is to use samples. These will allow you to create professional-sounding tracks at a fraction of the cost. 
However, in order to use these files, you'll need to license the sample. Plus, you may have to pay a royalty fee to the producer of the track. This can get a little expensive depending on the files you choose.
So, to keep costs at a minimum, it's best to use royalty-free samples. You can use these files and tweak them any way you want, at no additional expense.  
Customizable MIDI Files
MIDI files are a type of data file that contains information about which note to play at different intervals. Because of that, you can play these samples on any device. Although, the sound will be a bit different depending on which virtual instrument you use. 
The main benefit of MIDI files is that they're compact. That means you'll be able to export and import them with ease. In addition, these files are customizable. You can tweak all sorts of parameters like the notes and adjust their patterns. 
The robustness and flexibility of MIDI files give producers more creative control over their projects. 
---
Related Article: The 7 Best MIDI Controllers Of 2022 To Create Music With
---
Large Range Of Plugins And Instruments
Other than music samples, Loopmasters offers plugins and virtual instruments through their parent company Plugin Boutique. These can be used to enhance the functionality of DAWs through music creation, mixing, and mastering.
Plugin Boutique has all the top plugins out on the market today and at some of the best prices. If you are looking for signal processing, analysis, and sound synthesis options, then they got you covered.
Loops will only get you so far, as you need to mix and master your music before you can get it out to the world.
Loopmasters Prices
The cost of using Loopmasters will change depending on the samples you choose. Each file comes with a price tag that you can see on their respective product pages. 
There are both expensive and affordable samples. So, finding a recording that fits your budget shouldn't be an issue. On top of that, you always have the option of royalty-free files. 
Though some Loopmasters samples are on the more expensive side, you won't find such excellent quality and customization anywhere else.
Loopmasters Advantages
In this section, we'll cover some of Loopmasters' most notable benefits. 
Efficiency 
Arguably, the best aspect of using Loopmasters is how much time you can save. Because the interface is easy to use, it should only take you a few seconds to find a sample you like. 
Then, thanks to the customization tools, you'll be able to tailor the file to your needs. Finally, with the help of DAW integrations, exporting the sample into your project is a breeze.
This collection of tools means you can produce professional-sounding tracks in no time. 
Affordable With Frequent Discounts
In the Loopmasters catalog, you'll be able to find many affordable samples. That means you'll be able to perfect your music on a budget. 
On top of that, Loopmasters offers plenty of discounts all year round. So, you'll be able to scour the library for deals that you can use to your advantage. 
Access To Exclusive Content
With countless people producing music each year, it can be a bit tricky to stand out from the competition. This is especially true if you're still finding your sound. 
So, to help you shine in a crowd, you can rely on Loopmasters. Because of the unique content on the platform, you'll have no problem creating fresh music. 
On top of that, you can alter all the samples to give them your own personal flair. That way, you'll ensure that no one else's music sounds like yours. 

Loopmasters Disadvantages
Now that we're done with the advantages, we can move on to the drawbacks. 
Limited Free Options
We talked about how the royalty-free samples on Loopmasters can be a life changer. You'll be able to create professional-sounding music without breaking the bank.
Sadly, this may be tougher than it sounds. There are only so many free options in the Loopmasters library.
So, you may need to do quite a bit of digging before you find a free sample to use. 
File Download Issues
To download samples from Loopmasters, all you have to do is click a few buttons. Even though the process is simple, some users complained of corrupted files. 
On top of that, the recordings can take a long while to download. This can be an issue for producers that are short on time. 
Although, you should be able to contact the support team to get access to the files. The process can be tedious, but you'll receive the sample one way or another. 
Final Thoughts
Loopmasters is an incredibly useful tool for aspiring and professional music producers. The platform offers countless samples and sound loops for users. One of the most notable features of the library is the wide genre range. Other than that, it provides high-quality samples and customizable MIDI files. 
The biggest benefit of using Loopmasters is saving time. You'll be able to find recordings and incorporate them into your music in a flash. On top of that, most of the tracks are affordable and there are frequent discounts. Plus, you get access to exclusive content. 
With minimal drawbacks, why don't you let Loopmasters help you make your next hit record!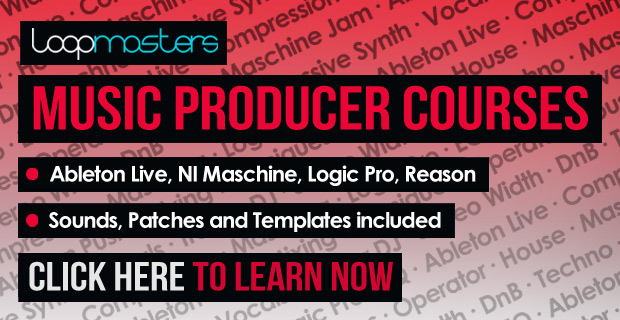 "Some of the links within this article are affiliate links. These links are from various companies such as Amazon. This means if you click on any of these links and purchase the item or service, I will receive an affiliate commission. This is at no cost to you and the money gets invested back into Audio Sorcerer LLC."